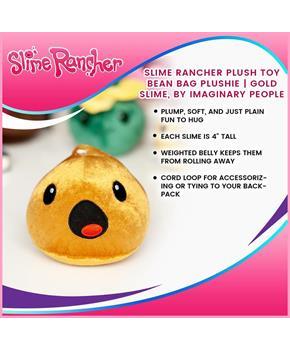 Slime Rancher Plush Toy Bean Bag Plushie | Gold Slime, by Imaginary People
Product Description
The easy way to start your own slime ranch!
No need to head out to the Far, Far Range, travel a thousand light-years, poke around the Glass Desert, buy outbuildings and breed plorts. You're kind of stuck on Earth, you've got a job or homework or both and VacPacks are hard to come by. So now's your chance to stock up your own farm and cultivate a bunch of adorable, harmless, no-fuss Slimes that never need feeding or a litterbox. So let us do the hard work and kick back, relax, and just hit Add to Cart now. You're welcome!
CUDDLE UP! Enjoy your very own 3D little slime from the hit video game, in soft plushy form. The bottom is weighted for stability
FARM UP A BIT OF SWEET SLIMY PLAY: Come vacuum up adorable, squishable cuddle buddies, perfect for hugging
MINI SIZE, MAXI CUTE: It's only 4 inches tall, but the grin on your face will be a lot bigger as you add some colorful, goofy fun to your life
TIE A FEW ON: Each Slime plush comes with a strong little cord loop, because unless you have your own Grotto, you gotta keep these things on a leash
BECOME A SLIME RANCHER YOURSELF! Since these plushies don't need food and can't wander off, they're super easy to farm. Collect them all!
---
View more Products in Below Tags:
---